FRANKLIN, New Jersey (WABC) -- Police in New Jersey are trying to figure out what happened to a young woman who has gone missing.
26-year-old Tammy Kim has been missing since last Thursday in the Sussex County borough of Franklin.
"We are more concerned because we can't track her without her phone or she could be more dazed or confused or even frightened, physically in danger, or just fainted or collapsed somewhere," said Christine Kim, the missing woman's mother.
A desperate mother is holding onto fliers of her missing daughter, holding onto hope.
Kim asked Eyewitness News not to show her face, but is pleading for help, in finding her only child, 26-year-old Tammy.
"More emotional than usual. She was like crying," Christine said.
Her parents say Thursday morning she was a bit off, a side effect from medication she was taking.
Her father then dropped her off at a Starbucks on Route 23 in Franklin, New Jersey, just minutes from home.
A little before noon he exchanged a text message with his daughter saying, "Let me know what time to pick you up."
She wrote back, "Yeah let's go."
That was the last time they heard from her.
One of the biggest missing pieces to this puzzle is what happened in the three mile distance between the Starbucks, where she was last spotted, and the spot where police located her cell phone and her laptop.
The question is how did she get there?
Did she walk or did someone take her there?
A surveillance video image taken from a laundromat later that day shows her walk in and out alone holding her laptop.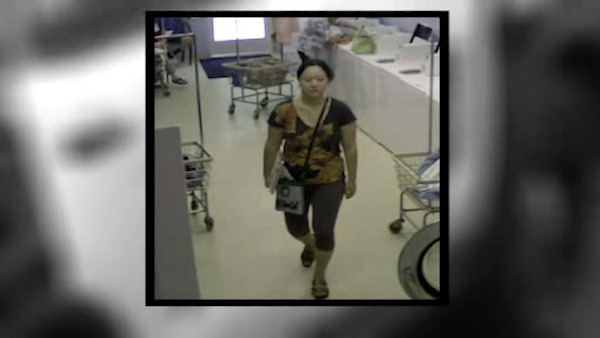 That laptop was found by cops in these bushes out front.
"Always open. It's a common area. (So you wouldn't have to) Nope you can walk right upstairs," said Det. Nevin J. Mattessich, Franklin Police.
Investigators found her phone next door in a tucked away unoccupied commercial building under construction.
There were no signs of a struggle.
Her phone and laptop were found in good condition.
"We can't point one way or the other. I can't say she was not target and I can't say she's not targeted. There's just no way for us to know right now," Det. Mattessich said.
Kim does not have a driver's license and she had her credit and debit cards on her.
They have not been used.
She was carrying a "Felix the Cat" purse.
She's 5'5" tall, 160 pounds.
Her parents say she frequents Manhattan and Asbury Park, so they're hoping someone there spots her.
Investigators are trying to access her laptop and are hoping to see if cameras at the Starbucks will provide clues.
This, as her mother waits.
"She shares everything with me. She treats me like her friend so almost no secrets with me," Christine said.