NORTH AMITYVILLE, Long Island (WABC) -- Nine people were hospitalized Tuesday after a chain-reaction accident involving ten cars on Long Island.
The crash happened at about 12:05 p.m. at Route 110 and Bentley Street in North Amityville.
Police say a 76-year-old man driving a Lexus sedan suffered a medical event and sped up to a red light on Route 110.
"I was sitting at the last light back there and the Lexus went flying by probably around 100 miles per hour," said East Meadow resident Michael Browne. "I continued after the green light and by the time I got to this light it looked like a tidal wave in the air."
Witnesses said the speeding car went airborne and rolled over other vehicles.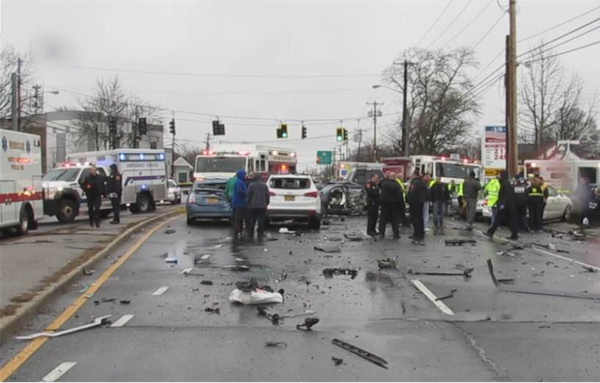 The drivers didn't even see it coming. "He just blew into everybody. He came to rest on the back of my car," said Massapequa Park resident Buddy Ficarelli.
Nine people were transported with non-life-threatening injuries to three hospitals: Good Samaritan Hospital Medical Center in West Islip, Saint Josephs in Bethpage and Nassau University Medical Center in East Meadow.
One of the injured was Ashley Seales' co-worker. A piece of metal debris went flying through her back windshield and hit him in the arm.
"He wasn't bleeding or anything but it hit him pretty hard. Pretty lucky though because it is sharp on the edges," Seales said.
There were no arrests and no summonses issued.
Police say the entire thing appears to be a horrible accident.
Now the drivers and passengers are recounting how they came to each other's aid.
"I just went to help everyone get out of their car, there was a woman in a white Mercedes. I helped her get out. Just trying to make sense of it," said Ficarelli.