BERNARDS, New Jersey (WABC) -- A Summit police officer was killed Tuesday morning in a multi-car crash in Bernards.
The Bernards Township Police Department confirmed that officer Matthew Tarentino, 29, died in the wreck that also killed one other person.
According to New Jersey State Police, around 6:20 a.m., three vehicles were involved in the collision on the eastbound side of Interstate 78 in Bernards Township.
Tarentino was going to work when a westbound car crossed over and struck two eastbound vehicles, according to Summit Police.
The driver of one of the other vehicles also died, police say. The victim's identity has not yet been released.
Another person was injured and taken to Morristown Medical Center.
(Photo courtesy NJ Advance Media)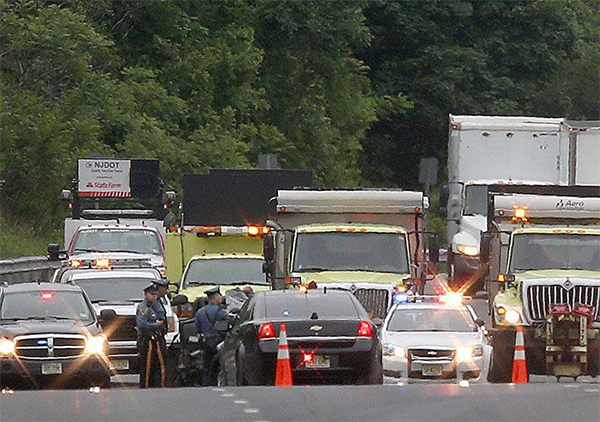 The Summit Police Department released a statement on its Facebook page:
Tarentino, 29, is survived by his wife and two children. His wife is pregnant with their third child.
He was scheduled to participate in a school program Tuesday morning which had to be canceled. Tarentino was set to attend a drug abuse education graduation program for fifth grade students.
The school district issued a statement that read in part:
"Officer Tarentino served the Summit Schools as an instructor in our elementary DARE Program, a Stokes and Washington DC Trip chaperone at the middle school for the past several years, and he recently spoke to all of our Primary Center students as part of Community Helper Day. Officer Tarentino was an important part of the Summit community and a well-known face amongst the students and staff in Summit Public Schools."
The cause of the accident was still under investigation. All lanes were closed as troopers investigated the crash.