HOWARD BEACH, Queens (WABC) -- Friends and family and even complete strangers gathered at a wake Friday for a woman who was found dead in a Howard Beach park after she vanished during an afternoon jog.
No arrests have been made in the death of Karina Vetrano, 30, of Queens, who left her home for a jog around 5 p.m. Tuesday. When she failed to return, family members reported her missing and started searching for her.
She was found around 9 p.m. in the marshes of Spring Creek Park, off 161st Avenue and 78th Street.
The medical examiner's office performed an autopsy Wednesday and ruled her death a homicide, saying she was strangled.
On Thursday, police said the crime appears to be random and that it appeared she also was sexually assaulted. They also said she fought back against her attacker, and they were hopeful that would lead to new evidence.
A sneaker and a bud from an iPhone headphone were found during the grid search, near the scene where the jogger was found, sources tell Eyewitness News.
The sneaker was about 100 feet away from the body, the iPhone bud about 15 feet off the path.
They will be tested for DNA and other evidence to confirm they are hers.
Hundreds came to the wake in Ozone Park to pay their respects to the family, in a steady stream of love and grief.
"I said to the father, I don't know what to say, for the first time in my life I have nothing to say," said family friend JoAnne Rosina.
Among those attending were the city's fire commissioner and the chief of detectives.
The reward for information increased to $10,000 Thursday, and the NYPD released a poster seeking information about Vetrano and her death.
"We really need the public's help with this one," Mayor Bill de Blasio said. "All of us need to help this family."
Watch Thursday's update from NYPD on the investigation:
Police said the flyers were posted Wednesday night in the neighborhood where she was found.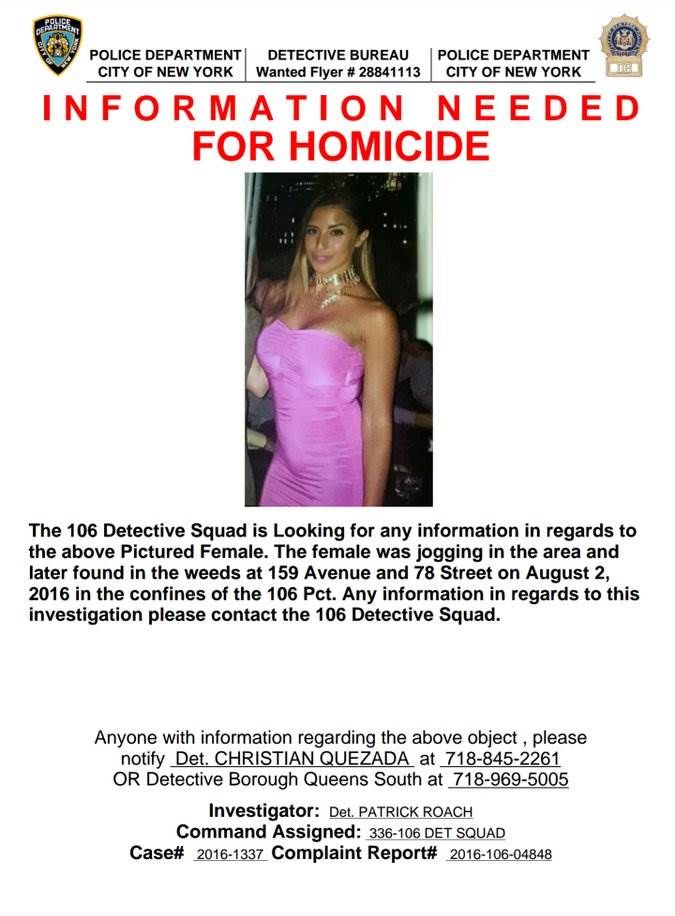 Vetrano's father and police returned to the scene Thursday morning to continue searching for evidence. Detectives and members of law enforcement have been combing the area where she was found and are expected to be out there for the next several days.
Police said they have swabbed the victim's cellphone for DNA evidence and are awaiting the results. They said Vetrano had been texting with her best friend while she was out on the run.
Vetrano typically ran the path with her father, who was not with her because of an injury. He had asked her not to go, police said, warning her it might not be safe without him, but she went anyway. A vigil was held Wednesday for Vetrano at the restaurant where she worked, and hundreds of people showed up.
PHOTOS: Jogger killed at Howard Beach in Queens