HARRIS COUNTY, Texas -- A mother is accused of stabbing her 4-year-old daughter to death in northwest Harris County.
Deputies say 34-year-old Laquita Lewis was in a traffic accident Sunday evening on I-10 East at 610 North. While she was being transported to the hospital, she texted family members that she had done "something bad" to her daughter, according to authorities.
Family members called the Harris County Sheriff's Office to report the text messages.
Deputies say when they arrived at the apartments in 5600 block of Timber Creek Place Drive, they found the body of her daughter, Fredricka.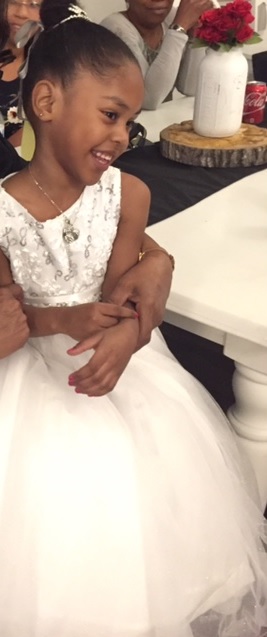 Lewis was detained at the hospital by HPD officers and is now in the custody of HCSO homicide investigators.
Investigators are interviewing her, and she has been charged with capital murder.
In court Monday morning, our sister station ABC13 learned that Fredricka was stabbed in the chest multiple times. Also revealed in court, Laquita allegedly told the child's father and aunt that she was going to heaven.
Deputies say there was a domestic dispute between the mother and her boyfriend on Sunday. Authorities are investigating if the incidents are connected.
The family created a
Gofundme account
to help the family with burial costs and other expenses.
Lewis was charged in November with the misdemeanor of making a terroristic threat for a Thanksgiving incident in which she threatened her 16-year-old son with a knife, according to the Harris County district attorney.
Lewis, who at the time had no prior criminal record, was sentenced in February to 15 months of deferred adjudication in that case.
As part of her probation requirements, she was required to take a Texas Risk Assessment System evaluation, which ranked her with a score of zero, the lowest score, for her risk for recidivism.
The paternal family of Fredricka Allen spoke out to Eyewitness News. The little girl's grandmother, Willia Allen, said her son first called her Sunday. He was worried about his daughter's safety.
Willian Allen said shortly after she received a text from Laquita Lewis. Allen said the text contained crying face emojis and read the little girl was in heaven.
"She said the devil got in her head and he took everything from her. She was so, so sorry," said Allen. "I'm asking for the public's prayers. I'm asking for everyone's prayers. Pray for me. Pray for my son. Pray for my entire family because we need it. We need it. I'm not a hateful person. I don't harbor any hate in my heart for her. I just really hope that whatever happened let it be known that this is God's will. Not ours. The battle is not ours."