SOUTHOLD, Suffolk County (WABC) -- A chilling discovery in Suffolk County could solve the more than 50-year search for a missing woman.
Skeletal remains were found Monday in the basement of a home in Southold. Police found the remains searching the home, looking for clues in the 1966 disappearance of Louise Pietrewicz.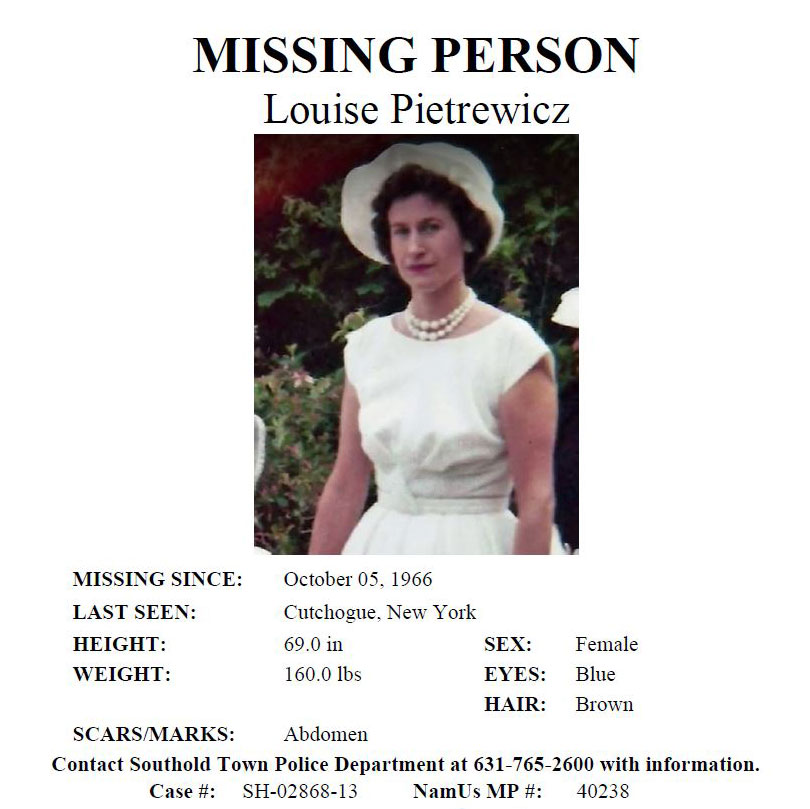 The home previously belonged to Pietrewicz's married boyfriend, William Boken, who was a suspect in her disappearance. Boken, a Southold police officer, died in 1982.
Boken had also been arrested for assaulting his ex-wife after Pietrewicz's disappearance.
"He kinda disappeared in New York City. No ATMs at that time, no video equipment, no cell phones -- so he kinda just disappeared," said Gerard Gigante, Suffolk City chief of detectives.
Pietrewicz disappeared when she was only 38, and her family has been trying to figure out what happened to her ever since.
The victim's surviving brother, 92-year-old Leon Jasinski, said he's waited more than 50 years for this.
"Finally, I says to myself," he said. "Finally they found her. Thank God."
Police originally dug up the basement back in 2013 but were four feet off from where the bones were found.
Suffolk County Police are calling this a good example of how they never gave up on a cold case. Pietrewicz's family is just grateful that their local newspaper delved into the mystery -- and with heavy hearts, they can finally have closure.
The remains were taken to the Office of the Suffolk County Medical Examiner to determine the identity and cause of death.
----------
*
More Long Island news
*
Send us a news tip
*
Download the abc7NY app for breaking news alerts