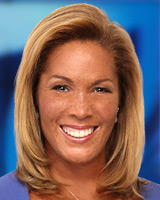 Kemberly Richardson joined the Eyewitness News team in May of 2003 as a general assignment reporter.

Before coming to Channel 7, she spent several years reporting across town at FOX5 News, as a national correspondent with BET Nightly News and as a media specialist at the Public Relations firm Fleishman Hillard International.

Kemberly started her television career behind the camera at WNET in New York and then headed west where she landed her first reporting job at WPTA in Ft.Wayne, Indiana. She then traveled further west to the San Francisco Bay area to work at KNTV in San Jose, California.

Kemberly has been honored with several Emmys and nominated for others. She is often recognized for her versatility as a journalist covering everything from Super Bowls to earthquakes, fashion, medical, crime, social, political and lifestyle issues.

Kemberly grew up in New Rochelle where her family still resides. She attended Syracuse University and graduated with honors, receiving a BA in Psychology and English.

Being a New York City reporter has afforded Kemberly the opportunity to cover extremely unusual, challenging and emotional stories including the September 11th terrorist attacks in 2001. Kemberly spent weeks after the attack in lower Manhattan following the search for survivors. When Superstorm Sandy essentially shut down much of the tri-state area, Kemberly was on the front lines as the East River overflowed its banks, countless people lost power and infants in the neonatal intensive care unit at one hospital had to be evacuated in the dark.

Kemberly is passionate about what she does. She's covered stories about one woman's plea for thieves to return her late mother's porcelain statue of a goose, a viral campaign centered around a Queens woman who went through two double lung transplants, and the story of a man from Staten Island who died after being placed in a police officer's chokehold, sparking the international battle cry, "I can't breathe."

Kemberly is committed to what she considers much more than a job, rather a lifestyle. Kemberly continues to make her mark on this world, her mantra being, "Don't let the easy breezy style fool you."

---