HARLEM, Manhattan (WABC) -- Giving back is a big theme of the day for many people, and New York City Mayor Bill de Blasio spent his Christmas helping dish out food and toys for the National Action Network's festivities for people in need in Harlem.
He was joined by the Rev. Al Sharpton at the always-packed event, with plenty of children and their families at the toy giveaway and celebration.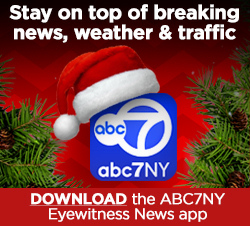 The guests were of all ages, and the gathering helps put things in perspective because the recipients are all so grateful despite whatever struggles they have endured.
"I was in a car accident, and it happened about four years ago," crash survivor Peter Jones said. "And, you know, I'm just grateful to be alive, you know what I mean? Because it was hard for me, because I lost my mother last week. So, you know, it was hard for me, but I wanted to make sure in the midst of my loss that these families here can have something they can look forward to."
Hundreds of children were there with their families for the toy drive and meal served up by the Rev. Al Sharpton and the mayor, who brought his older child Chiara.
"This is not about what you get, this is about what you give," said Sharpton.
Out on 145th Street there is no shortage of people every year for this event. In mid-afternoon, people were still lining up.
"Just want to be humble, more humble, treat everybody nice, you know what I'm saying?", said Tyrone Evans of Brooklyn.
The mayor used the setting of the National Action Network to talk about activism.
"Count your blessings that change does come when people demand it," said the mayor. "Count your blessings that change does come when people stand up."
96-year-old Florence Rice considers that her unfinished business for 2016.
"I hope for people, our young people, get more doors open to them," she said.
And speaking of young people, at the toy giveaway the ones we talked to aren't too picky.
"What are you hoping to get today?", we asked Stephoni Jenkins of the Bronx. "Anything," she said.
"To spend time with your family and just enjoy the holidays." said 10-year old Le'sha Benjamin.
That is the greatest gift of all.