SUNSET PARK, Brooklyn (WABC) -- The NYPD is on the lookout for a man they say took a hammer to a camera and several windows at two mosques in Brooklyn.
The attacks happened shortly after 5 p.m. Saturday.
Video clearly showed the man holding a hammer and destroying property at the Beit El-Maqdis Islamic Center at 6224 6th Avenue in Sunset Park. Police said the man then ran eastbound on 62nd Street.
About a half hour later, police say the suspect broke the front door and the mailbox of the United American Muslim Association on Eighth Avenue.
Investigators released a surveillance picture of the suspect.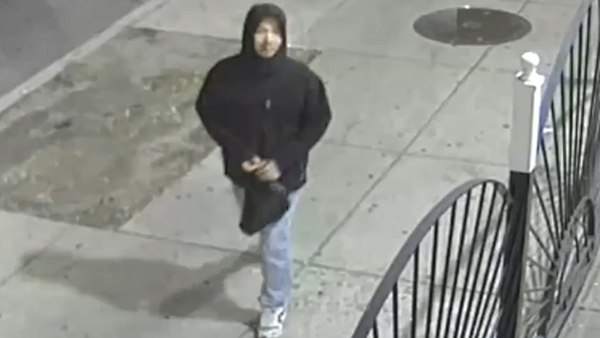 The crime is being investigated by the NYPD's Hate Crimes Task Force.
NYPD data shows hate crimes are on the rise, and worshipers at Monday morning's prayer service didn't have any idea why their mosque was targeted
"Sick guy, maybe he got problems with his head," worshipper Hamood Zokari said. "He didn't have a good life, he drinks, something...he had problems with his girlfriend or his family or his wife."
Members of the community held a solidarity prayer inside the mosque Monday.
"Incidences of vandalism in Sunset Park at Beit El-Madqis Islamic Center and Fatih Camii Mosque are abhorrent to the values of our community," Borough President Eric Adams said. "I thank the NYPD for the diligent investigation of these attacks, which may be linked to the same individual. No hammer will shatter our spirit. The human spirit has the unbreakable ability to withstand any signs of hate and come together as one body of all faiths that says we stand together with these mosques, and with all people of this great borough. My Office of Faith-Based and Clergy Initiatives will expand its efforts to encourage all of our houses of worship to ramp up their safety measures, including camera systems and onsite security personnel."
Anyone with information should call Crime Stoppers at 1-800-577-TIPS, in Spanish at 1-888-57-PISTA, or by texting 274637 (CRIMES) then entering TIPS577.
----------
*
More Brooklyn news
*
Send us a news tip
*
Download the abc7NY app for breaking news alerts