NEW YORK (WABC) -- Sunshine and pleasant temperatures return on Wednesday, but use caution if you are visiting the beach.
The National Weather Service says there's a high rip current risk through Wednesday evening.
Anyone visiting the beaches should stay out of the surf. Rip currents can sweep even the best swimmers away from shore into deeper water.
If you enter the surf zone, always have a flotation device with you and swim near a lifeguard. If caught in a rip current, relax and float, and do not swim against the current. If able, swim in a direction following the shoreline. If unable to escape, face the shore and yell or wave for help.
WATCH: Weather Or Not with Lee Goldberg - a new series now available on our connected TV apps for Fire TV, Roku, Apple TV and Android
Wednesday
Back to beautiful with a high of 76.
Thursday
Gorgeous again with a high of 78.
Friday
More clouds with a high of 77.
Saturday
More humid with a high of 84.
Sunday
Possible thunderstorm. High of 87.
Monday
PM chance of storms with a high of 87.
Tuesday
Repeat of Monday. High 88.
MORE ACCUWEATHER RESOURCES
Watches, warnings and advisories from the National Weather Service
Check AccuTrack Radar
AccuTrack Radar New York City view
School closings and delays
For weather updates wherever you go, please
download the AccuWeather app
.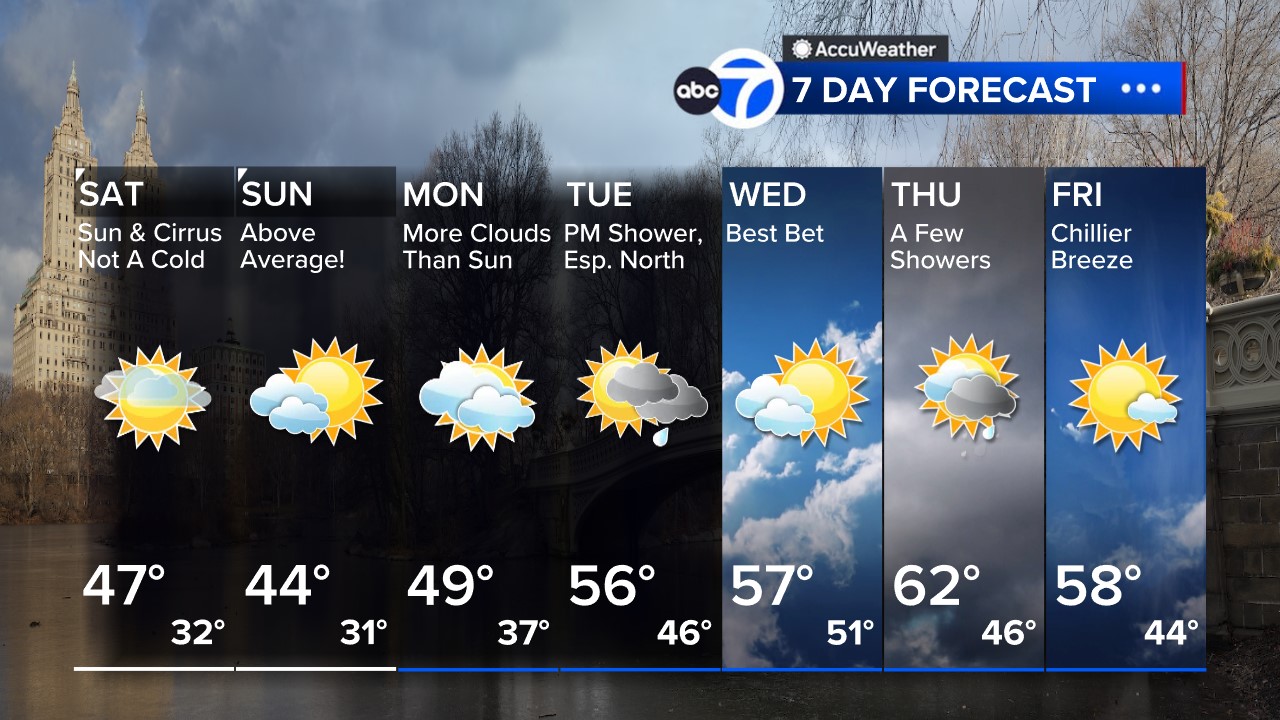 RELATED: "Our America: Climate of Hope" examines the changes in our climate, the risks and the signs of hope. Watch now on our CTV apps for Fire, Roku, Apple TV and Android TV