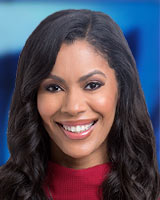 Shirleen Allicot is the co-anchor of Eyewitness News at Noon and couldn't be more excited to call New York her home once again! Before coming to WABC, Shirleen was the co-anchor of Action News at 4 on WPVI and Action News at 10 on WPHL in Philadelphia. There she covered everything from Hurricane Sandy to the Boston Marathon Bombings to the recent Amtrak derailment story. She interviewed Michelle Obama and reported live in Chicago for Oprah's final farewell.

Previous stops included News 12 Connecticut, News 12 Long Island, and News 12 the Bronx, where she shot, wrote and edited her own stories, and anchored the weekday morning newscasts.

Born in Guyana, Shirleen moved to the United States when she was just three months old. She was raised in Ozone Park, Queens, where most of her family still lives. Her mother and father both worked for the NYC Transit Authority. Shirleen graduated from Hofstra University with a B.A. in Broadcast Journalism.

In her spare time, Shirleen enjoys testing her skills in the kitchen, traveling to exotic places, and spending time with her very large family.

---