NEW YORK CITY (WABC) --
The New York Auto show is back for its 118th anniversary, featuring an incredible collection of cutting-edge design and extraordinary innovation.
More than four floors of displays from the world's automakers will feature the newest vehicles and latest futuristic concept cars.
Watcj Lee Goldberg, Ryan Field, Amy Freeze for your inside look at the auto show! "In the Fast Lane: New York International Auto Show" right here on abc7NY..Part 1:
Part 2:
Part 3:
Part 4:
Part 5:
Part 6:
Part 7:
The event itself runs through Sunday, April 8th with nearly 1,000 cars and trucks on display at North America's first and largest-attended auto show - dating all the way back to 1900.
See also:
NYIAS Web Site
|
Directions and Parking
|
Schedule of Events
|
Show Buzz
|
FAQ
LOCATION:
Jacob Javits Convention Center 11th ave between 34th and 40th Streets
SHOW DATES AND TIMES
: Friday, March 30th, 2018 through Sunday April 8th. Monday - Saturday: 10am - 10pm * (Sundays: 10am - 7pm - including Easter Sunday)*
TICKETS:
http://www.autoshowny.com/tickets/
COST:
Adults: $17
Children ages 3-13: $7
Children two-years-old and under can enter for free with a paying adult family member
Group ticket options available.
SCHEDULE:
Full list of events
PHOTOS:
See the show's long list of
Vehicle Galleries
here.
WATCH "IN THE FAST LANE" SATURDAY AT 7:00 P.M. ON CHANNEL 7 AND ABC7NY.COM
Here are groups and products featured in our show, "In the Fast Lane."
Greater New York Auto Dealers Association
NY Waterway ( Ferry Service)
Peter Lyon / World Car Awards
Scotty Reiss - A Girls Guide to Cars
Lincoln Tech, Queens
Alan Taylor / Auto Expert
Productions Plus
Saratoga Auto Museum
Group Tours - ( NYAS web site )
Nick Kurczewski / Car Expert
Ford:
www.BuyFordNow.com
Toyota
www.buyatoyota.com
Audi :
http://www.audioffers.com/tri-state/locations/index.htm
East Side Settlement House
2019 Audi RS5 Sportback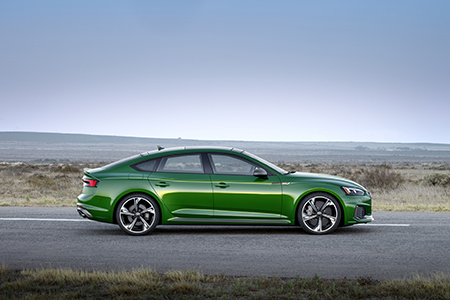 ----------
*
More New York Auto Show coverage
*
Send us a news tip
*
Download the abc7NY app for breaking news alerts