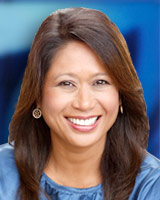 Nina Pineda is the new face of 7 On Your Side on Eyewitness News. Starting in January 2010, Nina joined the 7 On Your Side team to help solve problems for consumers in New York, New Jersey and Connecticut.

Nina joined the Eyewitness News Team in October of 2000. Prior to making the move the "Big Apple" Nina worked in her hometown of Pittsburgh, "The Steel City" for the ABC affiliate WTAE-TV. Nina's first job in the news business was a position as the AFTRA (American Federation of Television and Radio Artists) reporter-trainee for WTTG-TV; the Fox affiliate in Washington, D.C.

Before becoming a journalist, Nina's work included lobbying on Capital Hill for Governor Mario Cuomo's Washington Office and a position with the Presidential Inaugural Committee handling celebrity relations for former President Bill Clinton.

Nina also helped the Eyewitness News Team cover the tragedy of the attack on America, September 11, 2001.

"Three days before the attack I was covering the MTV Music Awards live from Lincoln Center, our anchors Bill Ritter and Diana Williams were joking with me on air about how terribly young the awardees were. 72 hours later, it was amazing how trivial that report seemed. Everyone's world turned upside down, and as journalists we were trying to get as close to the towers as possible that Tuesday morning. Many of us wound up running for our lives."

For Nina, reporting on the tragedy live from Lower Manhattan and her subsequent reports from the family centers and hospitals has changed her entire outlook on the profession of journalism. "This is a time where a new generation of reporters has a chance to renew the public's view of the media. Never before has it been more important to provide our viewers with substantial information, unbiased accounts of the events which affect our world, and most of all, deliver reports with sensitivity and genuine caring for victims, no matter what the story is."

"It's a privilege to cover the news in an area with the diversity of the metro area," Nina says. "Our viewers are the most savvy in the world. They count on us to give them 100% fair and balanced reporting, plus make our stories interesting to watch. It's a challenge I strive to deliver on every day." Nina is a summa cum laude graduate of Syracuse University with a BA in political science.

Nina currently lives in Manhattan. Her interests are scuba diving, biking, politics and adventure travel.


---