NEW YORK CITY (WABC) -- The Tri-State area continues to dig out and get back to normal Wednesday after the massive nor'easter dropped upwards of 18 inches of snow across parts of the area.
New York City elementary students are back in the classroom after two days of remote-only learning, but there remain travel concerns due to coastal flooding and uncleared roads.
Video posted on the Citizen app Tuesday afternoon showed a New York City sanitation truck being swept away by door-high water on Beach Channel Drive and Beach 84th Street in Rockaway.
Some NYCHA residents were reportedly without heat, prompting City Council Member Fernando Cabrera to demand repairs to the heating system.
"Once again, NYCHA residents are forced to live in inhumane conditions because of the neglect and lack of transparency of this agency," Cabrera said. "It's unimaginable that NYCHA would allow tenants of a senior citizen development to live without heat since the beginning of the winter and not even address these issues in advance of the city's worst snowstorm since 2016. NYCHA is putting seniors' lives at risk. I have submitted legislation to the NYC Council that would allow NYCHA residents to use the City's 311 system to register complaints and make service requests, since NYCHA's system is dysfunctional and unaccountable."
Sanitation Department crews are still working to plow every street, while also cleaning bike lanes and crosswalks. Outdoor dining resumed Tuesday night New York City, though some businesses had their outdoor setups damaged by the storm.
RELATED: How much snow has fallen in New York City, New York, New Jersey and Connecticut
There is still plenty of work to be done.
"They did do the handicapped spots, but that's it," one resident told Eyewitness News. "But the permitted spots that you pay quarterly for, they're not done yet. You can barely get into the lot."
Overall though, residents were staying optimistic.
"We're New Yorkers," one said. "Pandemic, snowstorms, we'll be OK."
The New York City Department of Sanitation announced the following updates to its snow clearing operations:
Shoveling Responsibilities
The Department has announced the "end of storm" for the recent snow storm. With the "end of storm" announcement, business and property owners must ensure their sidewalk has been shoveled by 1 p.m. Wednesday.
Snow and ice on a sidewalk can severely injure pedestrians. According to the NYC Administrative Code, every owner, lessee, tenant, occupant or other person having charge of any lot or building must clean snow and ice from the sidewalks adjacent to their properties. Snow may NOT be pushed into the street or bike lane. Snow MAY be placed against the building, against the curb line, or on private property. Clear the snow from around fire hydrants. Corner property owners should clear a path to the crosswalk, including any pedestrian ramps.
Trash/Recycling Collection
The Department will resume trash collection starting Thursday, February 4. Residents with regular Thursday trash collection should put their material at the curb between 4 p.m. and midnight Wednesday evening for collection. As the Department works to get back on regular schedule, residents should expect residual delays as the Department catches up.
Residents are asked to continue to hold their recycling material, if possible, though residents may place it curbside if space is an issue. Recycling collection will resume as soon as possible.
Pedestrian Infrastructure and Bike Lanes
The Department has again employed emergency Snow Laborers to remove snow and ice from areas such as cross walks, bus stops, step streets, fire hydrants and some bike lanes. Yesterday, about 300 Snow Laborers worked in the City. Their work will continue tomorrow, Thursday, February 4.
Piling/Hauling/Melting Operations
The Department has announced that snow piling, hauling and melting operations are underway in certain areas citywide. In larger snowfalls, the Department will move snow from some areas, especially in places with more narrow streets, and melt the snow using large machines. The snow melters can melt 60 to 120 tons of snow per hour, at a rate of 240 gallons per minute. The liquefied snow is then drained through approved NYC sewer connections after filters catch and remove any debris.
Readdressing Snowy Conditions
The Department's salt spreaders and snow plows are continuing work today. Residents can report driving lanes on city streets that need re-plowing or re-salting by calling 311. Keep in mind that local streets, while plowed and treated, may not show complete "black top."
ALSO READ | Police: Woman doing donuts before driving into LI Sound during nor'easter
ADDITIONAL WINTER STORM COVERAGE
Snow Stream live winter storm updates
New York CIty declares state of emergency
Mass transit and travel information
For weather updates wherever you go, please download the AccuWeather app.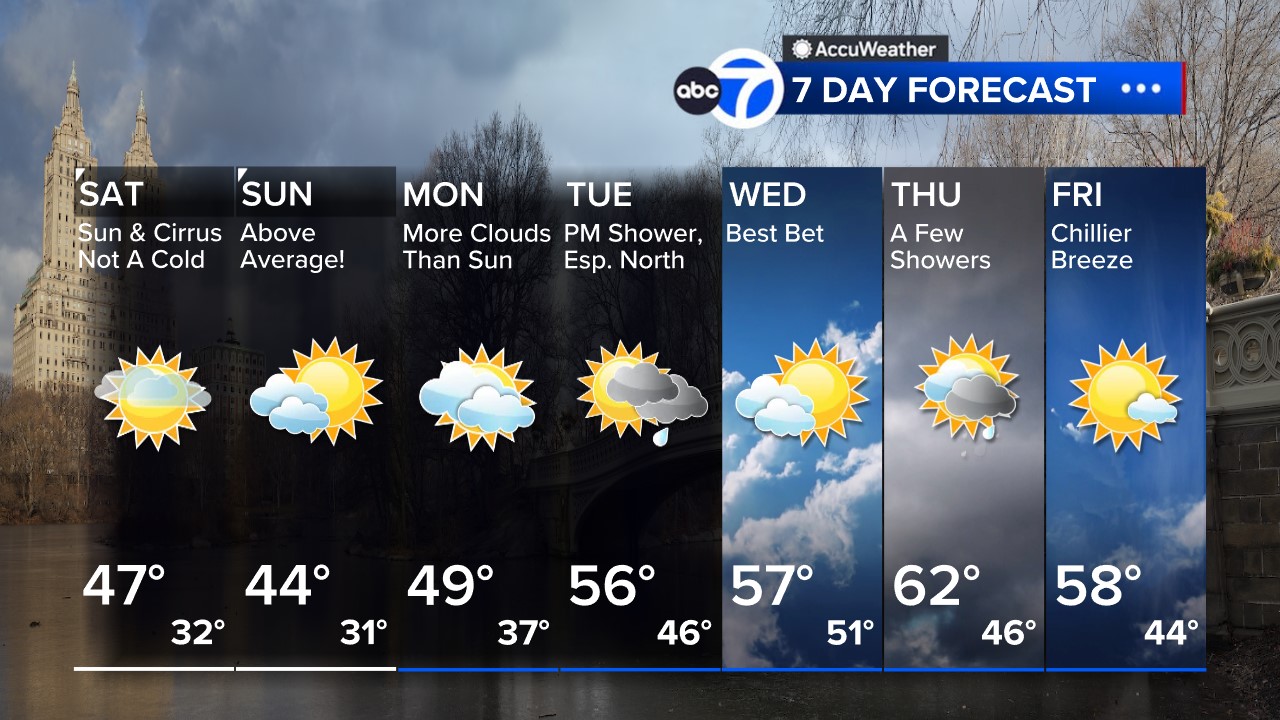 SEND YOUR SNOW PHOTOS HERE: